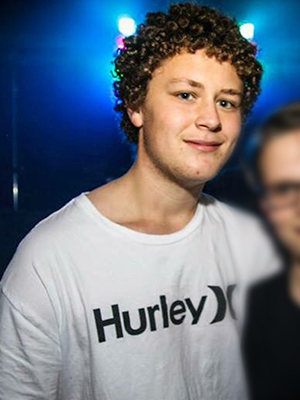 Samuel
Hi I'm Samuel and I am one of Marleina's clients from Fit 'n' Fab. For Life. I have been part of the exercise program for 3 years now, and I have no regrets at all in deciding to join. When I first began training with Marleina I weighed 99kg, at the age of just 12. Into my third year of Marleina's training program, I have now lost over 20kg, weighing 78kg. There is also some hidden progress as I have grown naturally taller and wider over the 3 years.
Before I began training with Marleina I was still an active child, however definitely not as active as I am today. I lacked knowledge in nutrition and didn't understand the importance of having an eating plan. With Marleina leading a healthy lifestyle herself, she not only knows about nutrition, she livesa healthy lifestyle. She was able to help me get on track to healthy eating by assessing my completed food diaries, and also gave metips on how to make better food choices.
Anyone who says losing weight isn't worth the trouble and it's too difficult couldn't be more wrong. I enjoy every benefit of an active and healthy lifestyle. It may be seem like an impossible task, however losing weight is most certainly achievable, as I corrected 12 years of mistakes in just 3 years; through dedicated training and healthy food choices.
Stephanie
I started personal training with Marleina about 5 years ago, a shy young teenage girl with confidence issues, and problems with very low self-esteem. I was so unhappy with my body and the way I looked and while it impacted largely on my social life, more importantly it affected my mental wellbeing. I was very nervous about the thought of coming to the gym, as I was coming from a lifestyle of minimal exercise, a relatively poor diet and such a negative attitude toward any kind of physical activity. 
I was swiftly proven wrong as soon as I started with Marleina. She has definitely broken the well-known reputation of the aggressive, yelling fitness advisor that many people imagine when they think of a trainer. Her non-threatening, kind nature, but simultaneously her ability to gently let you prove to yourself that you can do a lot more than you think you can do, made getting into regular physical activity such an enjoyable experience. Marleina's on-going nutritional support in addition to the exercise, has been more beneficial than I can say. I have learnt so much and I am no longer of the belief that you have to torture yourself in order to eat healthy foods. 
One-on-one training is the best way to go as it becomes a lot more of a personal experience. Also, Marleina takes a lot of care in getting to know her clients individually and caters every training session to your needs. Her equipment is of the highest quality and it is a peaceful, non-threatening private environment in which you and your wellbeing are the primary focus. I am in a much better place than I was when I first started, both mentally and physically. It has improved my confidence and my self-esteem immensely and my lifestyle has benefited so much from this experience. Exercise is no longer a chore and I now know that my body is so much stronger than I ever thought it was.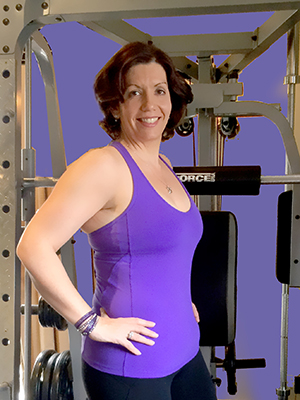 Jo
Before I met Marleina I was worried that this attempt at weight loss and fitness would end the same way as my previous attempts – with me heavier and more disheartened than before. How wrong I was!! Marleina was inspiring and totally understood how I felt and the work that needed to be done. She spent the time getting to know me so she could push me that extra bit, without yelling, in a positive way, often using my trigger words "you're getting skinny" to keep me motivated. The excuses to give up are always there – injuries, time constraints or just the "I can't be bothered" but I look forward to training with Marleina and I know I will always feel fantastic after our sessions.
Marleina is not only a motivating trainer, she is a life changer. People who know me can't believe how much I have changed both in appearance and in attitude. I am no longer the overweight, chocoholic who would avoid all physical activity. I now enjoy exercise and can't go more than two days without some form of exercise. I love our sessions, can call myself a runner and can't wait to increase the weights I lift. It is all thanks to Marleina!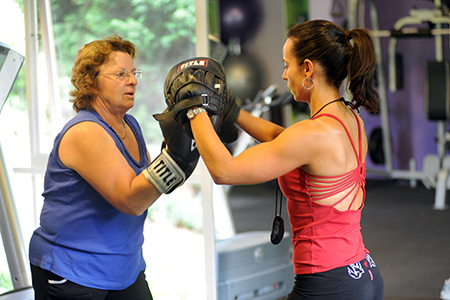 Carol
After having a break from regular training, I discovered Marleina. It was very lucky for me, as she is an amazing trainer with a fantastic, optimistic approach to training. I find her to be extremely motivating and after training with her for nigh on 18 months, I've never felt better!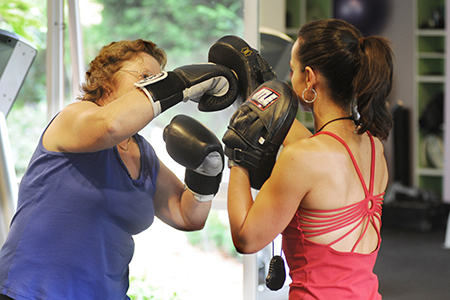 Alex
I am a 36 year old male and have a passion for body building. I had been training for several years in a public gym, although, about two years ago, I started to plateau in terms of building muscle.  That's when I was introduced to Marleina. To be honest, I was sceptical at first, I thought, how can this "girl" teach me anything about body building? Upon meeting Marleina, I did notice that she had great muscle symmetry and she seemed very knowledgeable. Then I saw the studio for the first time. Marleina's equipment is of the highest quality and I love the privacy factor; it allows you to be the total focus. Marleina has taught me so much about compound and isolation exercises and program variation. In addition to this, she has changed my mind set about how influential your lifestyle choices are on your results. Marleina is a believer in constant results management. Therefore, I'm proud to say that from the time I commenced with her, my lean body mass has gone from 82% to 90.5%. Now, I look and feel better than I ever have, and I truly believe I could not have achieved this without Marleina's help.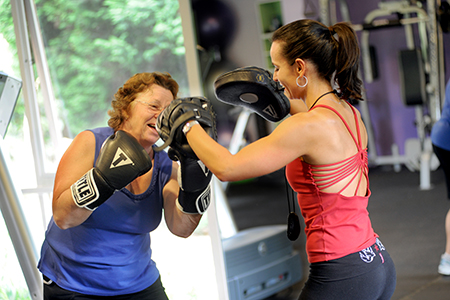 Chris
Since I started training with Marleina, I have noticed a big improvement in my strength levels as well as developing more muscle definition. I get a lot of value from my PT sessions and Marleina is always providing me with useful tips and techniques to help me bulk up and get stronger. I really appreciate the extra programs Marleina designs for me, that I can complete outside of my sessions.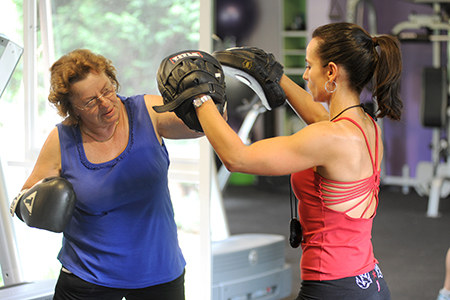 Marini
My training sessions with Marleina are never a chore and are something I look forward to each week. Marleina keeps me focused and motivated despite a busy work schedule and my energy levels not always being high! Marleina has customised a training and nutrition program which suits me and which is helping me to achieve my weight loss and fitness goals.
Marleina keeps my training program fresh and challenging as I become fitter and stronger. She helps me to stay positive and closely monitors my improvement which I find really helpful. She provides me with constant support, information and helpful ways to improve my diet. She is always up to date with the latest training techniques that have been beneficial in learning how to lead a healthy and active life.
Having experienced knee pain for many years means I am sometimes limited with the type of training I do. Marleina is able to tailor my workouts to ensure I still get the work out I need, without aggravating my symptoms. With her help, I have been able to totally transform my lifestyle and have become passionate about training and improving myself.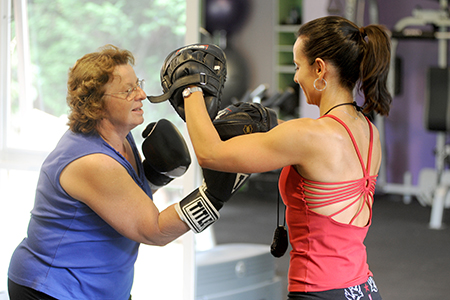 Vanessa
It's refreshing to work out with a trainer who listens to your needs and actually helps you achieve your goals.
I have to thank Marleina for making me less lardy…most of the wobbly bits are nearly all gone.
After training for several years with other trainers, I have only now been able to reach those personal goals with Marleina!
Marleina's training doesn't end when your session ends, the support you get from her afterwards is just as beneficial.
Training with Marleina is not only training physically but also mentally…it's training for a better lifestyle, not just a phase.
Anything I have ever said I couldn't do, Marleina has proved me wrong!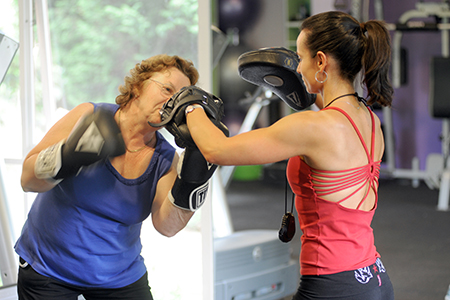 Viola
I just wanted to say that I'm really enjoying my sessions each week and I think Marleina is an awesome trainer.